Along with supporting employees within our business, Peninsula Group also recognises its wider responsibility in society. That's why we build strong relationships with local charities, non-profit groups, and educational organisations.
Charity partnerships
Peninsula Group partners with the Royal Manchester Children's Hospital Charity. Since March 2019, we are proud to have raised £1.8 million to this charity. This means we have nearly reached our target goal of £2 million. Along with regular fundraising initiatives, Peninsula Group offers voluntary payroll giving and matches each donation pound for pound.
In 2021, we launched a partnership with the North West Air Ambulance Charity (NWAA) to support its lifesaving crew. We pledged to raise nearly £10,000 for the charity, which would pay for two full uniforms and medical kit. This is essential in protecting NWAA's crew of highly skilled specialist Helicopter Emergency Medical Service (HEMS) paramedics and doctors, who attend some of the most traumatic incidents in the region.
Tanya Hamid, Interim Director of Charities at Royal Manchester Children's Hospital Charity, said: "Peninsula Group's generosity seems never ending! The announcement they wanted to pledge an additional £1million, just after finishing raising £2million for the iMRI Appeal, is just incredible. We couldn't believe it. We're very proud to have them on board as corporate partners".
Prof Stavros Stivaros, Director of Neuroimaging at Royal Manchester Children's Hospital "When I do that very first scan with the new iMRI scanner I will think of every single fundraiser who made it possible, and in particular Peninsula Group for their generosity and kindness."
Local education
Our partnership with Salford University and Salford College allows us to work together to support the development of research, training, and projects of joint interest.
Our award-winning apprenticeship scheme offers young individuals the opportunity to study towards a qualification whilst receiving invaluable internal training and the support of our external partners, Salford University and Salford College.
We regularly offer graduates the opportunity to become Employment Law or HR Advisors and join our Advisory Teams in Manchester, Glasgow, Hinckley, and Dublin. In total, we have employed over 100 graduates and apprentices since 2015.
We provide practical opportunities for students to enhance their employability. Doing this establishes a framework that can be a reusable model, not only for Peninsula's Group business requirements, but for our suppliers and clients.
In 2022, we also launched a new corporate partnership with IntoUniversity. This organisation helps transform the future careers of young people from disadvantaged backgrounds, providing a safe space for them to learn, explore, and succeed. They offer innovative programmes for young people aged seven and above, that support them to realise their ambitions, achieve their academic potential, develop vital skills, and gain experience of the world of work.
It's a huge honour for me to be asked to become an Honorary Fellow at Salford University and one which I am delighted to accept. Having spent the majority of my professional career right here in Salford and knowing the excellent standards as a former student at the University, I'm very much looking forward to working with them to further develop and grow the business leaders of the future.
Alan Price, CEO at Bright HR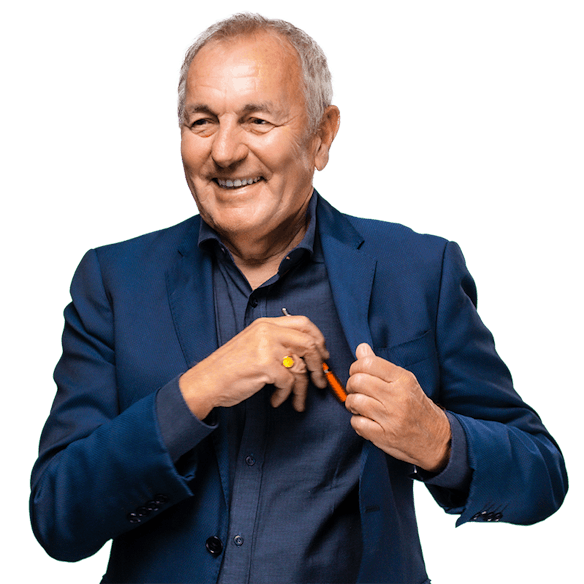 I've been honoured to meet some of the young patients cared for by the hospital and I've seen first-hand the incredible things the hospital achieves each and every day.
The invaluable support given to 280,000 families every year - not just in medical terms, but emotional and practical support too - shines a light of hope on what will be some of the most challenging days of their lives. We know what a difference our support has made to the iMRI Scanner Appeal, and now we want to push forward and make an active difference to the lives and futures of other children just like Ava. We hope the business community will join forces with Peninsula Group in our quest to do everything we can to help this amazing charity do what it does best: make life better for the hospital's patients and their families.
Peter Done
Peninsula Group CEO and Founder
Peter started Peninsula in 1983 as the first consultancy to make HR and health & safety services accessible to businesses of all sizes. Today, Peninsula looks after over 120,000 companies worldwide, with offices in the UK, Republic of Ireland, Canada, Australia, and New Zealand. Peter has been named one of the UK's top CEOs, he is a member of the Forbes Business Council and is regularly published in the Times Enterprise Network and FT Adviser.
Local sport
To further our impact within the local community, we partner with Salford City Football Club. A major goal is to build on our contribution to the local community at grassroots level.
As part of our long-term commitment to the area, we are working alongside Salford City FC to engage with the people of Salford on a wide range of issues, like mental wellbeing. Salford FC partnered with Health Assured to raise awareness of male mental health. As part of this campaign, Health Assured offered Salford FC supporters free access to their confidential wellbeing services.
The Peninsula Group also proudly sponsors several 'under eights' football teams in Manchester and Cumbria, with intention to expand support across the UK.
There is still a stigma associated with men's mental health and quite often its assumed that if an individual is getting on with their day to day routine then they are okay - this is not the case. We need to be challenging the stigma, encouraging open communication by having regular welfare meetings and talking openly about mental health. We are delighted to be working with Salford City to prioritise this important issue.
Kayleigh Frost is Clinical Director at Health Assured